The PA2000 is a powerful accessory for Tharo H-400/H-600 Series thermal transfer/direct thermal bar code label printers. The PA2000 features a smaller footprint, 16.5″ wide x 32″ tall x 30″ long, than other Printer/Applicators, with a remote front panel for easy access, regardless of the orientation of the applicator. This allows the PA2000 to be installed in locations where other Printer/Applicators cannot.
PA2000 SPECIFICATIONS
Minimum Label Size:
.20″ x .20″ (5mm x 5mm) with specialty tamp 3″ x 1″ (76.2mm x 25.4mm) with Tamp Blow
Maximum Label Size:
6″ x 8″ (152.4mm x 203mm)
Placement Accuracy:
Stationary: +/- 0.01″ (.25mm) or Moving: +/-0.125″ (3mm) (for example: conveyor belt applications)
Speed:
Up to 58 labels per minute*
Weight of Applicator:
27 lbs (12kg) – 37 lbs (17kg)
Weight of Stand:
120 lbs (55kg)
Standard Stroke Length:
17″ total (432mm) (10″ (254mm) below table) Custom length cylinders are available upon request.
Air Requirement:
75 to 90 psi (5 to 6 bar)
Printer Type:
Tharo H-427, H-436, H-626 or H-634 Direct Thermal or Thermal Transfer Printers
Power Source:
Switchable: 100V 60Hz or 230V 50Hz
Environmental:
Temp 50-95 °F (10-35 °C) at 10-85% humidity
Standards:
Built to CE safety and emissions standards. RoHS compliant upon request.
* Speeds are approximate. Product size, label size, printer model and conveyor speed will determine actual throughput
WARNING BEACON:  The warning beacon functions as a visual display for applicator and printer errors.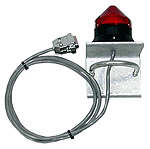 ---
PRODUCT SENSOR:  The product sensor functions as an automatic trigger device, which sends a start signal to the applicator.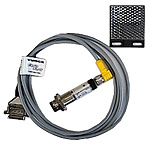 ---
FOOT SWITCH:  The foot switch functions as a manual trigger device, which sends a start signal to the applicator when it is pressed.

---
HAND CRANKED HEIGHT ADJUSTABLE H-BASE STAND:  Allows for extremely precise height adjustment, while providing stability, and allowing the PA1200 to be used with a conveyor or other automated system. This is required if the applicator is to be used with the external Unwind/Rewind.  Locking casters are available for the stand.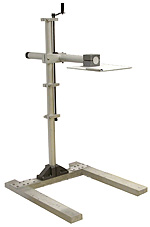 ---
TABLE-TOP STAND:  Allows the PA2000 applicator to be placed on a table as an alternative to the H-Base Stand.

---
EXTERNAL UNWIND/REWIND:  Accommodates up to 14″ OD roll of label stock, and allows for quick replacement of media, which helps keep downtime to a minimum. The H-base stand is required for this accessory.